Africa's beacon of hope
The pop star Bobi Wine wants to modernize Uganda, with his movement he awakens hope for change among millions of people in Africa. But the regime reacts with brutality – and reveals the fear of the old elite.
Susanne Koelbl and Maximilian Popp report from Uganda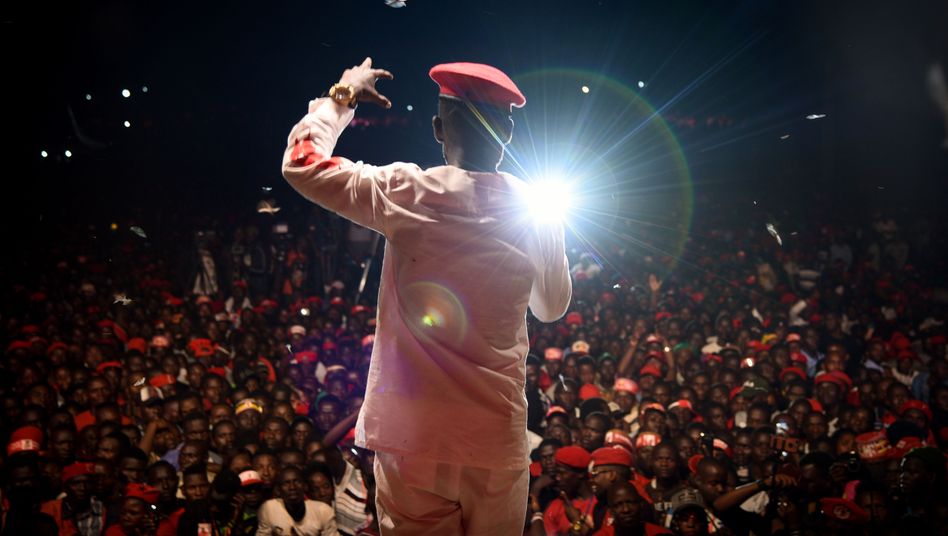 Bobi Wine is tripping down the stairs of his house. A springy gait, a smile on your face. Little can be seen of the exertion of the past few days and weeks. "I can't afford to be tired," he says as he collapses into an armchair in his garden. Employees circle him, hand him water and pineapple. Fans besiege his property.
DISPLAY
Wine, 38 years old, a pop musician from Kampala, the capital of Uganda, has become a beacon of hope for many people. In mid-January he brought Uganda's aged incumbent, Yoweri Museveni , to the brink of defeat in the presidential elections . In the meantime he has become a kind of public enemy, his importance extends far beyond his home country. Wine embodies the »future of Africa«, says the Nigerian Nobel Prize for Literature Wole Soyinka .
The Ugandan regime, on the other hand, sees Wine as a threat. President Museveni placed his challenger under house arrest after the election in mid-January. Hundreds of soldiers and police officers occupied Wines villa on the outskirts of Kampala, his brother-in-law had meanwhile been abducted, and supporters of his People Power movement were arrested, tortured and killed.
Wine doesn't give up anyway. He is convinced that the election, in which Museveni officially won 58 percent of the vote, was faked. His lawyers have appealed against the result to the Constitutional Court.
"The more Museveni gets into distress, the more brutal he becomes"
Wine receives a chat in the garden of his villa on the outskirts of Kampala. It is the first interview that he has given since the end of house arrest. Before that, not even the US ambassador was let through to him. Friends who wanted to bring Wine and his wife Barbie food were stopped by soldiers. "Museveni has been ruling Uganda by force for three and a half decades," says Wine. "And the more he gets into trouble, the more brutal he becomes."
From: DER SPIEGEL 7/2021
Deadly hatred
Misogyny on the Internet is increasing. In open and closed forums, men fantasize about torturing, humiliating and rape women. More and more often, violence is being carried over into reality. Kill murderers and terrorists because they hate women. In a SPIEGEL survey, members of the Bundestag are calling for stricter laws and reporting how hatred and agitation against them has increased dramatically.
Wine wears a red shirt, sandals. In a country where politics is made by men in suits and generals in uniforms, he already represents an optically opposite model. He speaks in the singsong of a rapper. His sentences often end with "Bro" or "Man". "I'm the elected President of Uganda, Bro," he says. Or: "Museveni's time is over, man."
Wine has the confidence of a man who as a musician is used to being on stage. He laughs a lot, gesticulates when speaking, skillfully puts punch lines. He knows how to win people over.
The duel for power in Uganda is representative of a generational conflict that can be observed in large parts of the African continent: In Uganda, one of the youngest populations in the world is ruled by a 76-year-old head of state.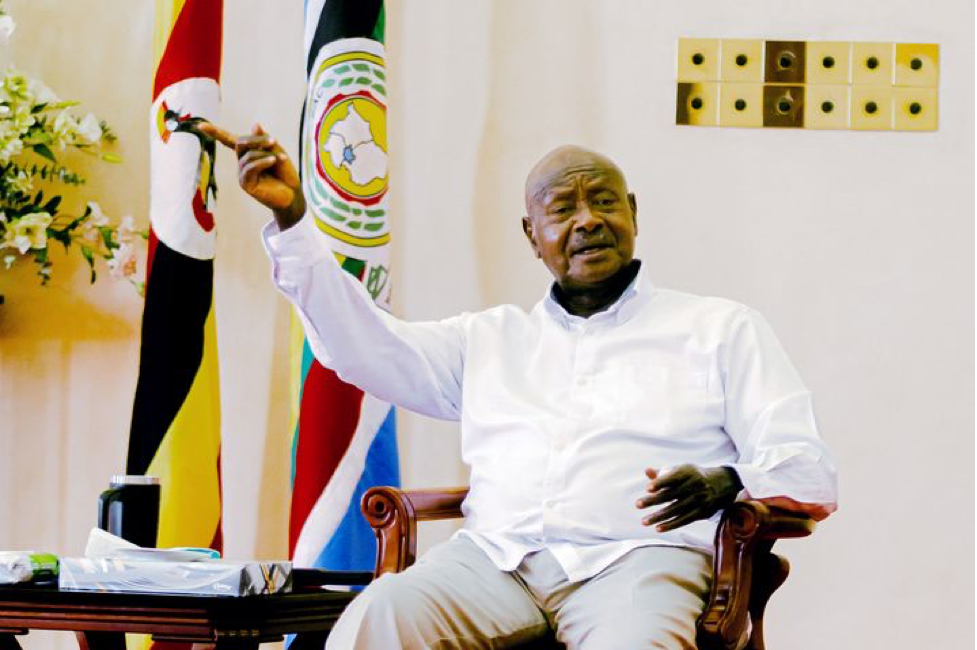 Yoweri Museveni once competed as a freedom fighter in the 1970s. As a rebel leader, he chased the dictators Idi Amin and Milton Obote from the
Office. Older Ugandans in particular appreciate him for ending the civil war and bringing stability and peace to the country.
After taking power in 1986, he initiated a series of reforms. He invested in the infrastructure, expanded the education system, and contained the HIV epidemic. He has seldom seen a politician who listens so closely and understands so quickly as Museveni, says Manfred Dietrich, the former head of the Hamburg Tropical Institute, who advised the Ugandan government on the fight against AIDS and is now Uganda's honorary consul in Hamburg.
Like so many rulers from this generation, Museveni became an autocrat during his tenure. The president has filled important positions in the state apparatus with relatives or generals, the media and courts are largely subservient to him, and members of the opposition are only tolerated as long as they do not pose a threat to the government.
Bobi Wine shook the Museveni system. With him, a politician has stepped onto the stage in Uganda for the first time who not only wants to be part of a democratic backdrop, but also demands reforms. Wine has become the voice of a generation that wants more than to maintain the status quo, that demands jobs and a perspective for the future.
Wine grew up in Kamwokya, a slum in the center of Kampala. The walls here are painted with portraits of the opposition politician. "Free Bobi Wine" is among the graffiti, "Democracy Now" and "People Power".
Twista Elias, a cousin of Wines, leads through the narrow streets of the district. It smells of burned wood, music can be heard from the huts, kiosk owners sell SIM cards, young people spread their fingers to the victory sign.
Elias stops in front of a shed, a room in the basement, the roof made of corrugated iron. Bobi Wine, whose real name is Robert Kyagulanyi, lived here for a long time – as one of his father's 34 children. The father fought alongside Museveni against the Obote dictatorship. He was arrested and jailed for three years. Just stay away from politics, Wine's mother pleaded with her son before she died early.
Wine drifted off after his mother's death. He drank, smoked pot. The music helped him not to crash completely. Wines songs are a mix of dancehall, hip-hop and pop.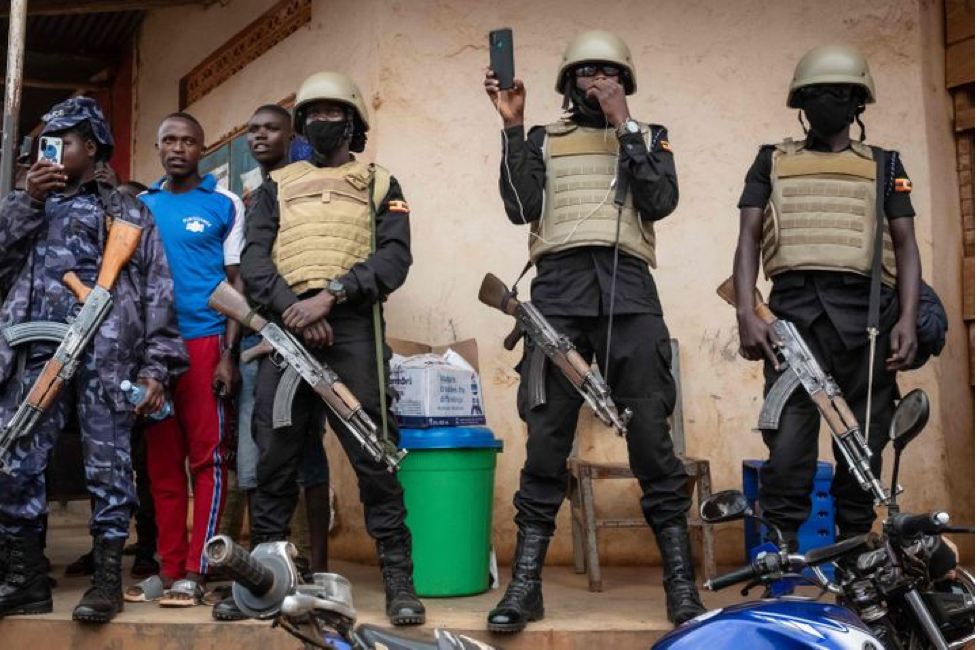 At first he presented himself as a rebel. He wore dreadlocks, called himself "Ghetto President", his role models were US gang star rappers like 2Pac or Snoop Dog. Over time, his lyrics became more political. Wine rose to become a pan-African pop star.
Two experiences, he says while talking in the garden, made him switch to politics.
He was once beaten by a man from the security apparatus in a nightclub. Don't forget who the real rulers of this country are, the officer said. "That's when I realized that no matter how hard you work in Uganda, no matter how much success you can have and in the end you are always exposed to the whims of the rulers."
In 2017, by amending the constitution, Museveni abolished the age limit for politicians in Uganda in order to be able to run again for the presidential election. In Uganda, many people saw this as the last step into dictatorship. In the same year, Wine successfully ran for parliament.
"Politics is a kind of curse for my family"
For Wine, the campaign against Museveni is also a personal matter. The political elite in Uganda ensured that his family slipped into poverty, he says. Despite their efforts against the Obote dictatorship, his father and uncle were arrested by Museveni in the meantime. Now Wine wants to get back to the president. "Politics is a kind of curse for my family," he says.
Wine does not have a mature political concept. He gives only vague answers to important questions, such as how exactly he wants to create jobs for the young population. He only half-heartedly distanced himself from the persecution of LGBTI people in Uganda. For many people in Uganda, he embodies the much-needed change through his energy and charisma.
Eight out of ten Ugandans were not born when Museveni moved into the presidential palace. They do not see in him the liberator from dictatorship, like many of their parents, but an old man who cannot let go of power.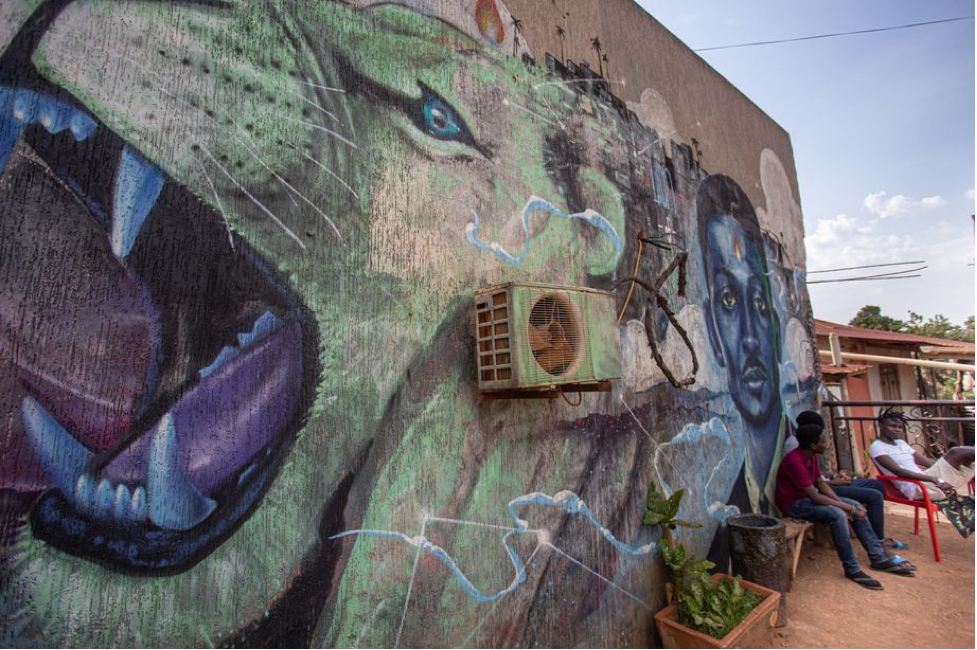 Museveni prides himself on the fact that Uganda's economy has grown steadily over the past few years, but it doesn't get through to the majority of people. The opposition complains about rampant corruption. In the Transparency International ranking , Uganda slipped to 142nd place last year.
Wine made a fortune as a musician. He now lives in a wealthy suburb of Kampala. Nevertheless, he can speak credibly about inequality because he grew up in poverty himself.
He staged his campaign appearances, often side by side with his wife Barbie, like pop concerts to which the masses flocked.
"We're tired of being ruled by the same people over and over again," says Paul, a mechanic in the Kamwokya district. "We need someone who is different, someone like Bobi Wine." Nestor, a student, adds: "Bobi is one of us. He speaks our language. "
Museveni tried to end the Bobi Wine campaign early. After Wine took office as a MP in 2017, he was jailed and tortured by the government for several weeks.
Wine continued anyway. He transferred his People Power movement to the National Unity Platform (NUP) and became its top candidate in the 2021 presidential election.
His opponents portray Wine as Hallodri, a singer for whom politics is just a pastime. In fact, Wine is determined to advance his political career and is willing to accept considerable personal sacrifices.
"Bobi is completely free of fear," says Ssekajja Ukasha, a Wines advisor. "And he has the stamina that is needed to play a permanent role in politics in Uganda."
The closer to the 2021 presidential election, the more pressure the regime put on Wine and the NUP. Wine estimates that at least 3,000 of his followers have been arrested since November. Wine himself was arrested again in November.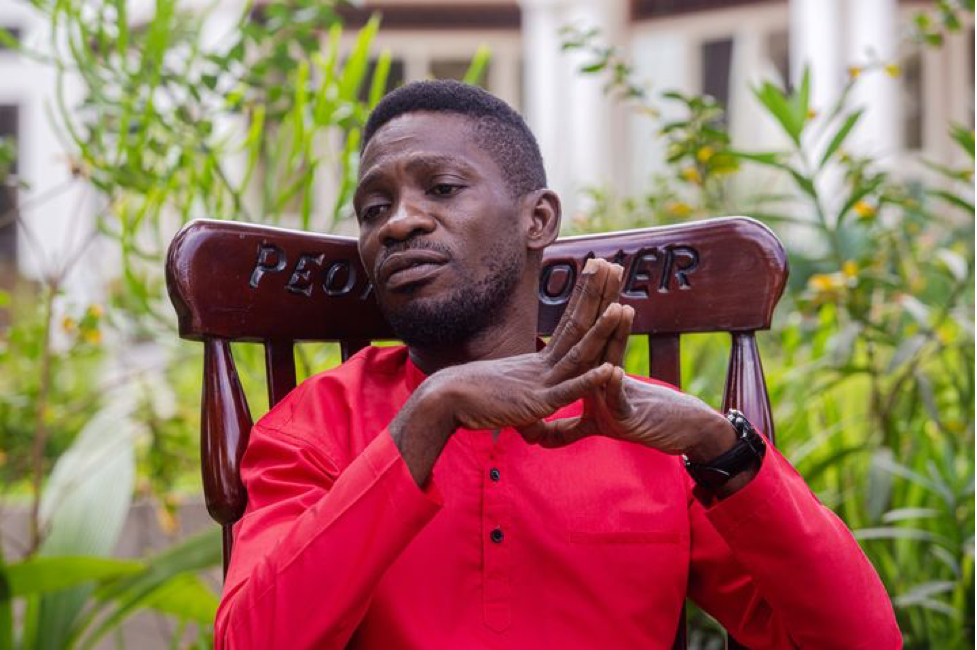 When protests broke out across the country, the police and military reacted with brutality. Videos show security guards shooting arbitrarily into the crowd with submachine guns. According to official figures, 50 people died in the unrest from November 18, and independent observers assume that the number of victims is at least twice as high.
"Museveni approached this election campaign like a war," says Ugandan human rights lawyer Nicholas Opiyo. The same special forces who coordinated the military operation against the terrorist militia al-Shabab in Somalia for the Ugandan government would now be patrolling the streets of Kampala.
Opiyo has been documenting human rights crimes committed by the Ugandan state for years. During the summer while he was working on a report on secret prisons where opponents of the regime disappear, the military secret service broke into his apartment one night and confiscated cell phones and laptops. Shortly afterwards, he was pushed off the road in his car by a military truck.
Opiyo wasn't intimidated. He spoke to eyewitnesses who witnessed the November massacre of Wine supporters. When he was having lunch with members of his organization Chapter Four just before Christmas, soldiers stormed the restaurant. They put a sack over Opiyo's head and took him to a military prison. The lawyer was only released at the end of December after international protests.
"The times when Europeans could teach us Africans lessons are over"
Uganda's President Museveni
Despite the repression against opposition members in Uganda, the EU states shy away from criticizing Museveni too sharply. Uganda is seen by many in Europe as an island of stability in a region that is marked by conflicts from the Congo to South Sudan . Museveni has made himself popular with heads of government by taking in refugees from neighboring countries and providing troops for the UN mission in Somalia.
The EU, the USA and institutions such as the International Monetary Fund recently supported Uganda with around two billion dollars annually in humanitarian, economic and military aid. The EU Foreign Affairs Representative Josep Borrell denounced "excessive violence by state security forces" before the January election, but the EU states are not questioning the result itself.
Museveni is correspondingly relaxed and self-confident when SPIEGEL meets him for a conversation in his palace in Entebbe.
The President welcomes his visitors in a ballroom. Soldiers guard the entrances with guns drawn. The January election was the fairest since independence began in 1966, says Museveni. Reports of violence by the military and police are lies by the opposition. "We do not allow individuals to incite society."
The biggest problem in Africa are "leaders who stayed in office too long," Museveni himself once complained. Today he doesn't want to know anything more about it. As long as the citizens confirmed him in office in elections, he sees no reason to stop, he says. Uganda is facing major challenges, the only politician who can keep the country safe and intact is himself.
Museveni sees criticism of his style of government as an insult, especially when it comes from the north. "The times when Europeans could teach us Africans lessons are over," he says.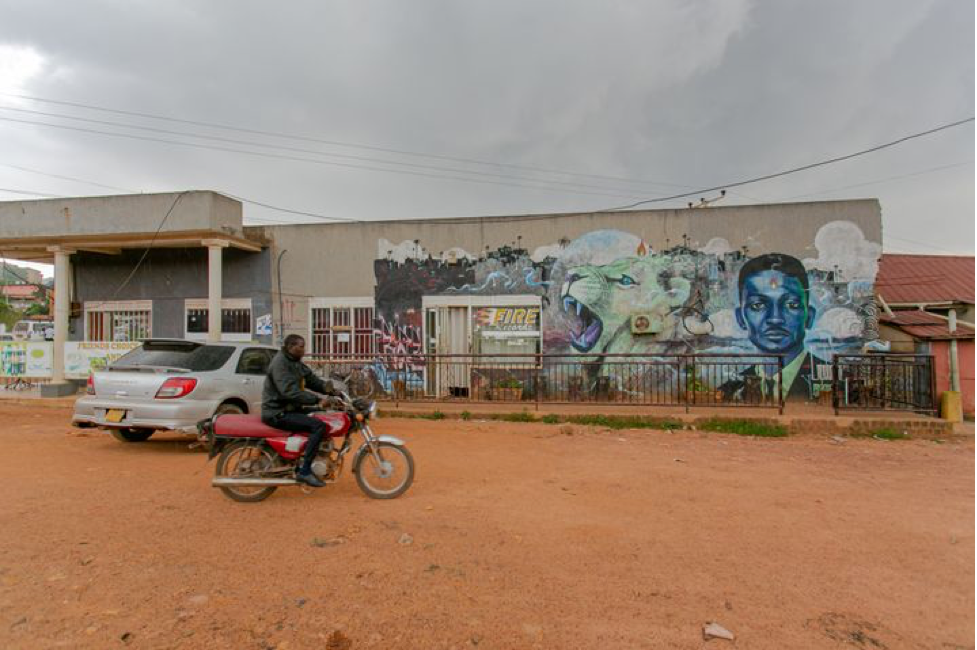 But his challenger Bobi Wine no longer counts on the old forces in his fight for democracy in Uganda. Europeans and Americans are more interested in their own interests than values, criticizes Wine.
Wine's lawyers are gathering evidence that the January election was rigged. They set up a tent in Wine's garden in which they evaluate videos and record hundreds of testimonies.
People report of attempts at intimidation by the military on election day, of masses of prefabricated ballot papers, of districts where Museveni allegedly got 100 percent of the votes. The government shut down the internet across the country for days, ostensibly to prevent civil unrest.
Wine wants to hand the material over to justice. He doesn't think the court will revoke the election. All 15 constitutional judges were appointed by Museveni, some were previously part of the executive branch. Wine still wants to document the injustice.
"We have to get away from believing in the One Savior in Uganda," he says. "What we need are strong democratic institutions."
If he becomes president, Wine promises, he will restore the separation of powers. He will end the censorship of the media, release all political prisoners, and introduce restrictions on the term of office for members of the government.
Wine has a difficult road ahead of it. In the years to come, he has to prove that he not only knows something about election campaigns, but also about political work. He must hold his party together and at the same time find allies in the state apparatus, especially in the military, which Museveni remains loyal to. The likelihood that he will fail, that he will be kicked out or locked away is high.
Wine is not afraid of that. "The struggle for democracy in Uganda didn't start with me," he says. "And it won't end with me."